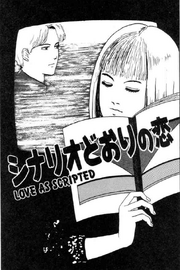 Chapter six in the twelfth volume in the Horror World of Junji Ito series,
The Bully
. Is also chapter six of
Museum of Terror vol. 3
Plot
Takahashi tells his girlfriend, Kaori, that he needs to broaden his mind for his writing by dating other girls. He gives her a video tape of himself that he made, and tells her to play it anytime she misses him and he will always be there. In her anger she shouts that she will never let him leave her, and stabs him with a kitchen knife.
As a flashback Kaori remembers their days together as part of an amateur theatre group, the place where she met him. Takahashi asks Kaori back to his place to practice lines since it is his script, but her friend Yoko jumps in and steals an angry Kaori away. Yoko explains that Kaori shouldn't be spending too much time with Takahashi because he's only showing her the sweet side of himself, not the side that uses girls from the troupe and tosses them aside when he's done with them. The worst part, Yoko says, is that to break up with them he makes a video tape of himself. The video stars him saying things like "I'm leaving, but if you ever get lonely watch this tape".
Kaori admits that she ignored Yoko's warning and had fallen in love with him. While practicing lines together, Kaori says that his writing is so good people are spreading rumors to tarnish his name- rumors about him being a heartbreaker, which he denies. However after a few successful performances Takahashi begins treating her differently, seeming instead to favor a female fan of the troupe. After being ignored she calls him and accuses him of falling in love with someone else, which he concedes is true. He asks if they can talk another time, and asks her to be there for him.
Back to the present Kaori tries to figure out what to do with his body. She starts digging through his belongings and finds a script titled "Kaori and I" which has conversations between them written. She pops in the tape that he gave her and found that the tape was one side of a conversation as found in the script, and that she was expected to respond. Kaori is surprised, thinking it would be nothing more than a big ego case, but he had spent six hours making the tape for her.
Kaori struggles to keep up with the conversation at first, but slowly gets the rhythm of it. She becomes absorbed, believing that he is alive inside the television, not actually dead. Until the supposedly dead Takahashi crawls towards her, begging her to call an ambulance before he bleeds to death. He promises not to break up with her, to marry her, and says that if he dies she will be guilty of murder. Kaori tells him that she doesn't need him anymore, that she has the Takahashi in the TV, one who will never leave or betray her.
She finishes the job, breaking a bottle over his head, and replays the tape.