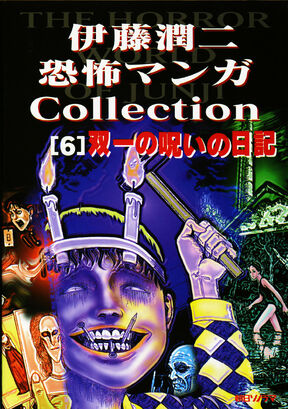 Souichi's Diary of Curses is volume six in the Horror World of Junji Ito series. It was originally published in Japan in 1997. None of these stories have been officially published in English. But some have been translated by fans.
The collection once again focuses on Souichi Tsujii, with the exception of the last story.
Characters
Edit
Souichi Tsujii
Edit
An eccentric and malicious 5th grader who loves to cause trouble. He is the black sheep of his family, and was raised primarily by his grandmother. Due to a lack of iron in his blood, he constantly sucks on nails held in his mouth; he can also spit them out of his mouth like darts.
Kouichi Tsujii
Edit
Souichi's older brother, who is 15 years old. Kind and level-headed, he tries to take care of Souichi, but is frustrated with his strange actions like the rest of his family.
Sayuri Tsujii
Edit
The middle child of the Tsuji family, the elder sister of Souichi and younger sister of Kouichi. She is in the seventh grade.
Michina and Yuusuke Hirose
Edit
Souichi's second cousins that come to visit the Tsuji family.
Miss Fuchi
Edit
A towering woman who enjoys popularity as a supermodel despite being a hideous, cannibalistic monster. She features in the final two stories and reappears in Voices in the Dark as Souichi's future wife. She is the only person Souichi fears.
Works Collected
Edit